B

irdie

G

oogins
Accidentally Maine's Only Supermodel
Maine's Hilarious Queen of Comedy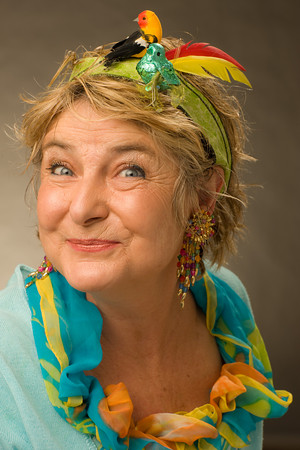 One of Maine's most well known television commercial personalities, Birdie Googins is Accidentally Maine's Only Supermodel. She's been touring the State with her one-woman stand up comedy show for five years; delighting audiences with her fun, kooky, over-the-top style of Maine humor.
In Southern Maine they say she's a phenomenon; in Northern Maine she's heralded as an icon. Finding herself with the status of a super model has its challenges ~ like keeping her mascara from running while racing from the paparrazzi.
An accomplished actress, playwright and comedian, Birdie's a Maine native. She grew up in Norway, Maine. ~ Being from here and traveling as much as she does ~ Birdie's got her finger on the pulse of our great State of Maine ~ and the people who live here.
Mainers? We're pretty much all eccentric - don't have to look far for material. Just walk out the door and start listening. We're known for our great sense a' humor and off-the-wall true stories. It's an honor getting to walk around this great state, meeting fabulous people. They keep me laughing - and laughter's one the sweetest things we can share.
For five years, Birdie has been delighting audiences with her own distinctive style of Maine humor.

She's available for bookings: corporate, private, you name it. Her show is an interactive fun festival, guaranteed.